SUN Brand Automotive V-Ribbed Belts (PK)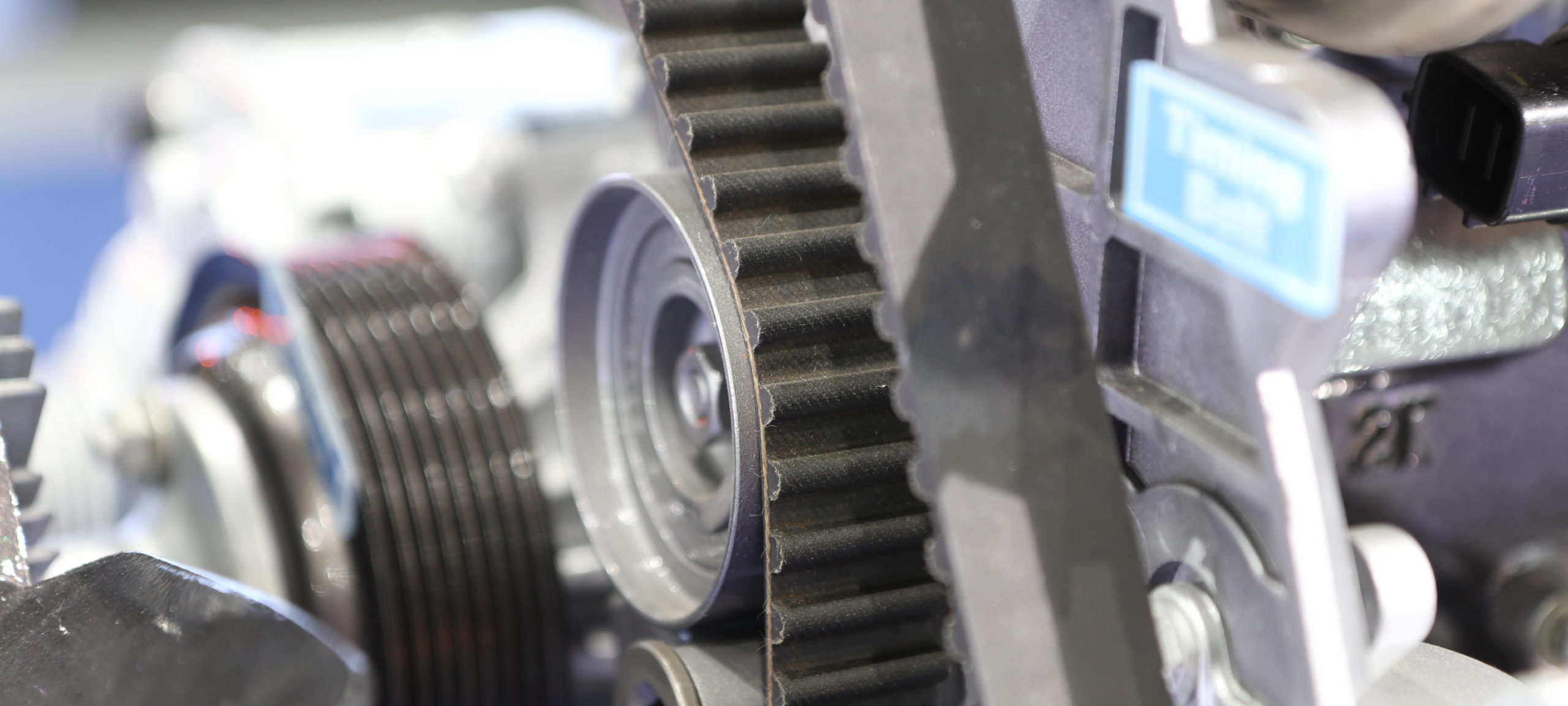 TIMING BELTS and V-RIBBED BELTS are core components for all automobile engines. Sub-standard belts can cause serious engine damage, and it is always recommended to choose a reliable brand. We have more than 40 YEARS OF EXPERIENCE in the global market with continuous innovation of belt technology. Our "SUN" and "UNISOL" Brand Automotive Belts guarantee TOP QUALITY from Japan!
V-Ribbed Belts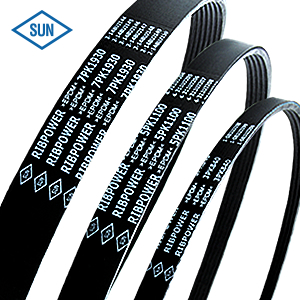 Normal Type
Stretch Type(S-Type)New Technology
* MADE IN THAILAND
* Manufactured by the top power transmission belt manufacturer.
(Certified ISO/TS16949, ISO9001:2008, JIS-Q9001:2008).
* Advanced EPDM/EB rubber technology
* High efficiency (lighter & more flexible)
* Improved heat resistance (+15%) and cold registance (+30%) "material comparison"
* Variety of sizes covering most of applications,
3PK, 4PK, 5PK, 6PK, 7PK, 8PK,

9PK & 10PK

NEW

: from 500m/m to 2600m/m.

SIZE
LENGTH
3PK
from 500m/m to 2,600m/m
4PK
5PK
6PK
7PK
8PK
9PK

NEW

10PK

NEW

* Compatible to O.E. standard specifications.
* Excellent quality to assure reliability and longer life.
* Competitive price.
CURRENT MARKING

NEW MARKING

BELT SIZE

BELT DIMENSION & CONSTRUCTION

REPLACEMENT TIME
When you hear abnormal noise or find the following belt condition, the belt should be replaced, and it is recommended that you replace idler and/or tensioner pulley as well.
TYPICAL FAILURE
BELT PICTURE
BELT CONDITION
CRACK

Cracks more than number of ribs reach to cord layer

Defect of rib occurred
SEPARATION
Separation appears parallel to cord line or belt width
ABRASION
Pulley head reaches to cord layer
CORD
Tensile cord is exposed
NEW PRODUCT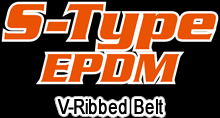 Feature of S-Type Belt (Stretch Fit Type)
"S-Type" having low elasticity characteristics can be installed on fixed pulley drive system without idler / tensioner pulley & bracket.

Advantage to users
"S-Type" assures maintenance-free,self-tensioning features for a life time service of the belt.
(A special jig is requied for installation.)
Caution
"S-Type" has no interchangeability with standard V-Ribbed Belt.
Please select the product number appropriate to the car model,
and follow the installation manual.
Application record
Car Maker
Displacement
Layout
OEM No.
Car Model
Engine
Subaru
1.5/2.0/2.5L H4
S4PK806
CRK-A/C
23979-AA000
Legacy for domestic, Impreza, Forester, Exiga
EL15, EJ20/25
2.0/2.5L H4
S4PK826
CRK-A/C
23979-AA020
Legacy for Australia
EJ20,25
Mitsubishi
3.0L V6
S4PK910
CRK-P/S
4451A083
Outlander
4B1
PACKAGE DESIGN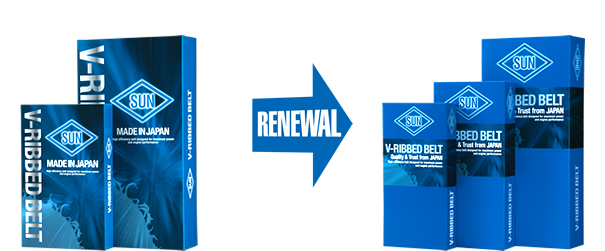 SMALL : For 3PK. 4PK. 5PK
LARGE : For 6PK. 7PK. 8PK. 9PK. 10PK
SMALL : For 3PK. 4PK. 5PK
MEDIUM : For 6PK. 7PK. 8PK
LARGE : For 9PK. 10PK
*Current package
*New package (since September, 2016)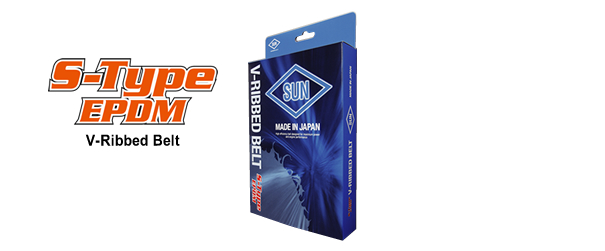 Sonic Tension Mater
■ Measuring belt tension with high accuracy

* Conform to the RoHS Directive.
* Backlight facilitates to use in dark area.
* Improved microphone performance.
* Light-weight and compact design.
* Possible to measure in narrow space.
* Applicable to both timing belt & v-ribbed belt.
*Please CONTACT us for more information, catalog, etc.