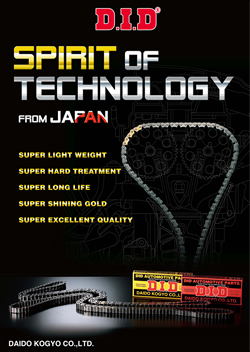 D.I.D Timing Chain
D.I.D Timing Chain for automotive engines has superior wear resistance and high strength coupled with excellent low-noise performance, and is trusted by customers world wide in modern high-performance automotive engines. D.I.D 6.35mm pitch Silent Chain features our original special surface treatment technology. Pioneered by D.I.D, this process ensures the highest level of performance first available in the world automotive market.
Types of Timing Chain and D.I.D's Features
Roller Chain:
D.I.D Roller Chain provides increased wear resistance with cold-forged bushings and proprietary heat-treated pins. Better low-noise performance is also improved by optimizing the engagement between chain and sprocket. D.I.D focuses on the technology for down-sizing the latest high-performance engines, and provides not only 9.525mm pitch but also 8mm pitch roller chains.
Silent Chain:
D.I.D Silent Chain has a big advantage in low-noise performance, but ordinary silent chain proved weak against chain wear elongation. D.I.D silent chain has been developed with superior wear resistance thanks to optimized link-plate design and special pin surface treatment that allows it to be used in even the most severe conditions. D.I.D new Narrow Type 6.35mm pitch Silent Chain that has been produced since 2005 enables size and weight reduction of the entire chain system, which means less noise, less vibration, and lower fuel consumption.
CHAIN TYPE
CHAIN PITCH
ROLLER CHAIN

DID 05 FK SDH
8.00mm
DID 06 FS SDH
9.525mm
DID 06 BH SDH
DID 06B
SILENT CHAIN

DID SCH-0412 SV
6.35mm
DID SCH-0411 SV
DID SCH-0409 SV